These are the main characters of the movie 'Cha Cha Hui'
LensNepal
November 21, 2019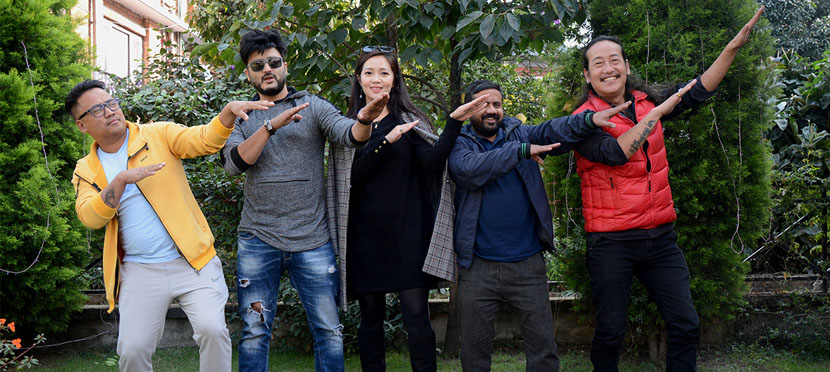 The introduction of the main cast of the movie 'Cha Cha Hui' has been made public. The production team provided information about the characterization of the main artist through a press Release. The movie has four main characters. Where Aryan Sigdel - Prem, Bhola Raj Sapkota - Bhola, Miruna Magar - Sangeeta and Maotse Gurung -Shyamlal.
The movie is directed by Samten Bhutia is going to be released on November 22. Here are the main four characters of the movie.

Prem
---
Prem ues to live in a Hongkong since his early age. Prem, who does not take work and life in a serious way, is crazy. He has no purpose in life. His relatives, even friends is only only Bhola. They work together. However, there is a situation where prem returns to Nepal. After returning to Nepal, he reaches the Himalayas. Then his life takes a new turn.

Bhola
---
Bhola, as the name suits his face and body structure only, his character is not so innocent. He Try's to do something in life, but there is no one to support him. Bhola also returns to Nepal with Prem from Hong Kong.
Sangita
---
Sangita is beautiful Growing up in the mountains, she is as graceful as it looks. She returns to the Himalayan region after completing her studies from Kathmandu.In the meantime, she meet with prem and after Meeting prem sangita's strory begins.

Shyamlal
---
Shyamalal is funny even when he looks older. He lied every in his life except himself. Shyam Lal, though funny, does illegal things. He entrusts Prem and Bhola to delivered a book. But Bhola and Prem doesn't delivered a book on time in the given adress, thats why Shyamlal turns into a villain.
Latest Updates
New Releases
(Magh 1)
Next Releases
(Falgun 21)