Kabaddi Kabaddi Kabaddi
News
That's how money minded Wilson changed
LensNepal
September 19, 2019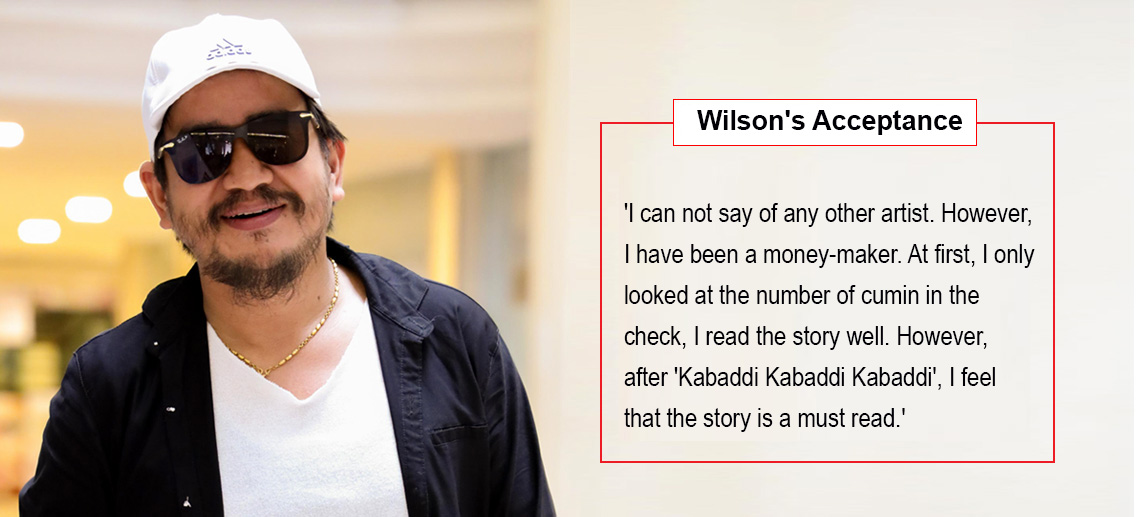 Only rarely can an artist know his weaknesses. Even so, artists rarely find their own weaknesses in front of the media. However, artist Bikram Rai has talked openly about the weaknesses of being a money-star artist.In the midst of a conversation with a limited journalist in the capital, Wilson admitted that he was a major artist. Admitting that he used to listen to the story of the movie but did not read it, Wilson said he had learned a lot from 'Kabaddi Kabaddi Kabaddi'.
It has been said that it has always presented itself as a type of tortoise and, given the different role, it has at last given the opportunity to self-assess its acting ability. He has been seen as a comedian in past films but, while working on 'Kabaddi Kabaddi Kabaddi', he is very nervous to get out of that hangover. He said that many times he did not even read the script after getting good money but after this time, he was able to do justice to his character even during workshops.
We read the checks well, but we do not read even a single letter in the story. Wilson's reporter asked the question - have the artists become money-makers ? On this question he said, 'I can not say of any other artist. However, I have been a money-maker. At first, I only looked at the number of cumin in the check, I read the story well. However, after 'Kabaddi Kabaddi Kabaddi', I feel that the story is a must read.'
After playing the role of 'Takme Budha' in the comedy titular 'Meri Basai', Wilson was also featured in the film 'Saayad', which was discussed at once. Perfect comic timing often made him laugh in the same role in the movie, making the audience laugh. He did not think that he had made a difference in every movie, but now he feels that the hangover of 'Takme Buda' has been seen in every movie.
Wilson says he couldn't even get out of the hangover when he was transported. However, this time he is seen as Dhankazi in 'Kabaddi Kabaddi Kabaddi'. And 'Takme Buda' has no clue at all.
There is a scene in the trailer of 'Kabaddi Kabaddi Kabaddi' where Wilson is eating bread. The same scene was captured on the first day. Director Rambabu Gurung took the tackle, but neither ok nor, he got up and walked. Wilson was astonished. The other technicians present in the set then asked 'what is so'. Wilson couldn't figure out what had happened. In the meantime, Maniram Pokhrel, the producer, said, 'Do you try to become a clown because you brought diamonds?' His statement made Wilson look like a limp at first. The first day when he stopped, he motivated him to become self-conscious. Shortly afterwards the sign was pulled again. Okay so happened. Wilson had no shootings for 3-5 days. He used that time equally. Re-read the script of the movie. And was ready for the role of Dhankazi.
Dhankazi is the character added this time in the movie 'Kabaddi Kabaddi Kabaddi'. Kazi, since Dhanakazi's entry after the bombing. The kabaddi legacy of Kabaddi, formerly owned by Dayahang Rai and Saugat Mall, has also fallen on Wilson's shoulders this time. Traffic can be seen between Kazi and Dhanakaji to find Soltini in the trailer.
'Kabaddi Kabaddi Kabaddi' is the third series of 'Kabaddi'. The movie, directed by Rambabu Gurung, will be released on September 20. Starring Dayahang Rai, Upasana Singh Thakuri, Karma Shakya and Wilson Bikram Rai, Rishma Gurung, Maotse Gurung, Pushkar Gurung, Kabita Ale, Buddi Tamang, Lunibha Tuladhar, Bijaya Baral, Kamalmani Nepal,Rajan Khatiwada, Mani K Rai, D.B Gurung, Rajendra Thapal etc.
The producers of the movie are Maniram Pokhrel, Arjun Karki and Om Chand Rauniyar. Ruden Sada Lepcha is the co-producer of the movie. Cinematography by Shailendra D Karki, Editing by Surendra Poudel, words of lyrics by Harka Saud, S D Yogi's music, Hemant Rana and Ritika Shrestha's vocals and Renesha Rai Rana's choreography.
---
Do Watch Wilson Bikaram Rai's Featured Movie
---
Know more about Wilson Bikaram Rai's Filmography
---
Know more about Kabaddi Kabaddi Kabaddi's Full Cast
---
Know more about Kabaddi Kabaddi Kabaddi's Full Crew
---
For more News about Kabaddi Kabaddi Kabaddi
---
Do Watch Kabaddi Kabaddi Kabaddi's Trailer
---
Do Watch Kabaddi Kabaddi Kabaddi's Songs
---