Free sanitizer booth at Anamnagar
LensNepal
August 13, 2020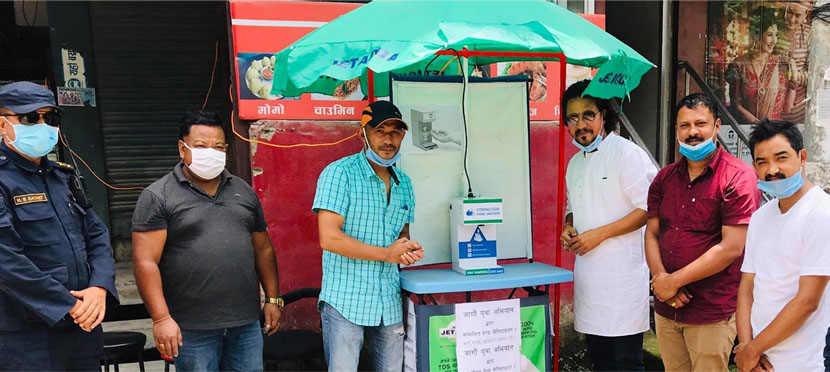 Assessing the growing risk of corona virus in the valley, sanitizer has been provided in front of the purbi gate of Singha Durbar in Anamnagar. A sanitizer booth has been set up at the place by Jagaun Yuva Abhiyan on the initiative of film distributor, artist and producer Karan Shrestha.
On Tuesday, artist Deepak Raj Giri, DSP Hari Bahadur Basnet of Anamnagar Police Circle, Guna Cinema Pralika Director Mahesh Prasad Kiju, Chairman of Jagaun Yuva Abhiyan Karan Shrestha, journalist Binod Chaulagai and General Secretary of Film Journalists Association Samir Balami jointly inaugurated the event.
The public of Anamnagar area will be able to sanitize their hands from the booth. Jagaun Yuva Abhiyan is working to spread awareness in Anamnagar, including planting trees, increasing the risk of corona virus and distributing masks.
Campaign Chairman Karan Shrestha urged all to make similar arrangements in their places of residence and said that even if we could set up sanitizer booths in our homes and workplaces and in Toltol, the risk could be reduced to some extent.
Latest Updates
New Releases
(Bhadra 15)
Next Releases
(Ashwin 21)