Deepa Shree Niraula Technically Strong Director - Dipendra Lama
LensNepal
October 03, 2019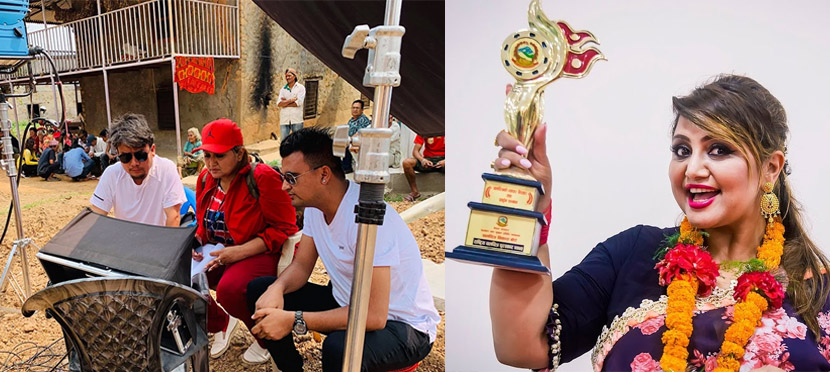 Deepa Shree Niraula is the director of frequent hit films at the box office. The director of the 'Chhakka panja' series also manages to become the director of one of the biggest business films of every year. However, the large crowd still question's on her work Efficiency. Director Dipendra Lama also heard the comments made on Deepa shree's ability. However, when he got on the field, everything he heard was wrong.
According to Dipendra, many directors are still for names only. Such directors are still in the market. Many would say to Deepashree too. But when they worked together on the shooting of 'Chha Maya Chhapakkai', he felt it was an unnecessary noise. Deepashree Niraula was appointed as a guidance counselor in 'Chha Maya Chhapakai'. Therefore, Lama was always together in the shooting. Due to which Lama got to know Deepa shree closely. When he worked with Deepa, he found out that she was technically a very strong director.
He added - 'Deepa Shree is working very consciously. Dipendra also said that he did not think of working for work only in Deepashri. The movie directed by Dipendra, 'Chha Maya Chhapakkai', is going to be released on Oct 11. The film also stars actors Deepak Raj Giri, Jitu Nepal, Kedar Ghimire, Keki Adhikari, Supuspa Bhatt. It is said that the film has picked up the story we have seen in our society. Director Dipendra says that every character created during the story is represented by Nepali society.
The movie produced by Rohit Adhikari is Deepak-Deepa's presentation. The film features Hari Humagai's cinematography. The director is convinced that Hari has acted for the first time in Deepak-Deepa's movie, but it looks different than the previous film. He further said that the artist's acting is more realistic than the 'Chhakka Panja' series.
Latest Updates
New Releases
(Mangshir 3)
Next Releases
(Poush 2)