6th 'ChhayaChhabi' teej award Completed
LensNepal
September 01, 2019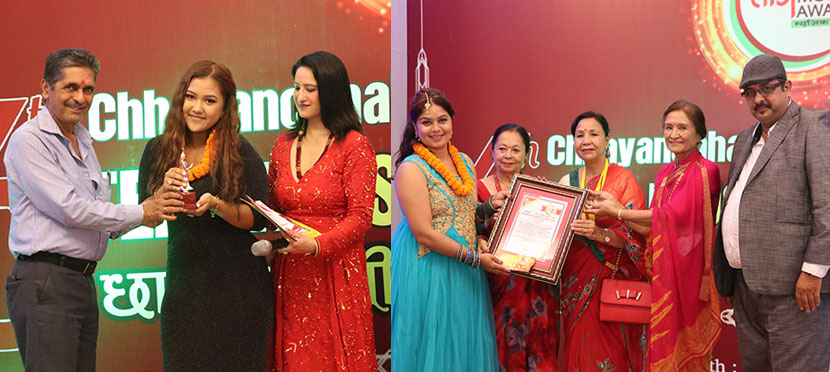 6th 'ChhayaChhabi'Tees Music Award has been completed. There were a number of female performers in the award ceremony, which was presented in a total of 38 category including 32 competing venues.
Shantipriya, the president of the organizing program, said that the event was organized to encourage the creators on the occasion of the festival and to have the opportunity to be encouraged by the song and its creative creators.
Sharda Thapa, who has been doing film Journalist for nearly a decade. On the occasion of the 6th ChhyaChhabi Teej Music Awards, has been given a ChhyaChhabi film Journalist Award along with six thousand and six Rupees.Senior actress Basundhara Bhusal, Chaitadevi Singh, Bhuvan Chand, director Deepashree Niraula, senior writer-director Mohan Niraula, Roshni KC, Regina Upreti were present at the award ceremony.
The Name of The Winners Are Listed Below :
1, Best Teej Dohori Mixing
Arjun Birahi - Ganga Jamuna
2, Best Teej Song Mixing

Santosh Paudel - Re Patam Bharara
3, Best Teej Dohori Song Arranger
Samit Pariyar - Dhalki Dhalki

4, Best Teej Song Arranger
Yogesh Kagi - Tijaima Barta Basi
5, Best Teej Dohori Song Debut Singer (Male)
Chitra Abhiral Shripali - Ganga Jamuna
6, Best Teej Dohori Song Debut Singer (Female)
Shashi Pun Deshar - Fariya
7, Best Teej Song Debut Singer (Female)
Mina Kc - Ghankaide Madalu

8, Best Teej Dohori Song Model (Male)
Nirmal Chhetri - ridhi Dobhan

9, Best Teej Dohori Song Model (Female)
Dipasha Bc - Syanga Jane Bataima Tanahu


10, Best Teej Song Dabut Model
Apekshya Singh - Gaun Ra Saharko Teej Lahar
11, Best Teej Song Model
Manjita kc - Teejko Aayo Lahara
12, Best Teej Song Cinematographer
Mukesh Humagain - Hatma Chura
13, Best Teej Song Editor
Prabin Bhatta - Maitiko Desh 2


14, Best Teej Dohori Dance Director
Rajib Balami - Yaspali Teejma
15, Best Teej Dohori Video Director
Raj kc - Ridhi Dovan
16, Best Teej Song Dance Director

Mausam Himali - Maitiko Desh 2

17, Best Teej Song Video Director
Narauan Rijal - Tijaima Brata Basera

18, Best Teej Dohori Song Lyrics
Tara Adhikari - Aau Sangi
19, Best Teej Song Lyrics
Yasodha Thapa 'Yashu' - Chhadke Nazar
20, Best Teej Organic Song Lyrics
Lokraj Adhikari - Re Patam Bharara
21, Best Teej Social Song
Pramila Pun - Teejai Aayo
22, Best Teej Dohori Song Tune
Jiban pariyar - Barkhe Jhari
23, Best Teej Song Organic Tune
hari Bista - Maitiko Desh 2
24, Best Teej Song Tune

Dharmaraj Giri - Kakariko Achar
25, Best Teej Duet Singing
Amrita Lungeli Magar, Sumitra Koirala, Sujata kc - Aljhiyo Fariya
26, Best Teej Song Company
Shubhashree Films Pvt. Ltd. - Bari Lai

27, Best Teej Dohori Song Singer (Male)

Lekhnath Acharya - Ridhi Dovan

28, Best Teej Dohori Song Singer (Female)
Sushila Gautam - Leu Lagyo

29, Best Teej Dohori Song
Jamana Anusar - Devi Gharti
30, Best Teej Song Singer (Female)

Anjana Gurung - Gaun Ra shahar Teejko Lahar
31, Best Teej Song
Chappalai Harayo - Krishna Pariyar
32, Best Organic Teej Song
Patali - Kala Lamsal

33, Encouragement Award (Model)
Kishan Aryal Krishna - Hatma Chura

34, Encouragement Award (Singer)
Shonika kc, Suruchi Panta - Shirai Laune Sirful

35, Public Choice Award (Singer)
Dhanakumari Thapa Saru - Jam Nachna Jam

36, Public Choice Award (Female Model)
Shushila Thapa - Maile ta Khojeko
37, Public Choice Award (Male Model)
Durgesh Thapa - Jwai Hajur

38, Juri Award
Tika Pun - Maitiko Desh 2
Latest Updates
New Releases
(Falgun 16)